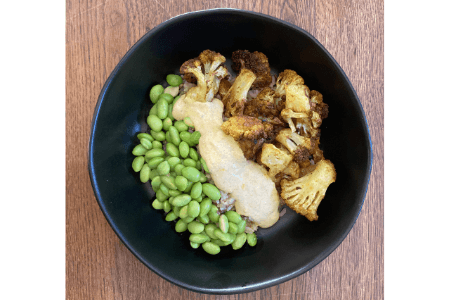 Curried Cauliflower Bowl with Creamy Curry Sauce
Posted on March 16, 2021.
Last updated on March 16, 2021

Written by Alyssa
So it all started when I was born… I remember those days well. JK – did I get you?! I HATE recipe pages that start with stories from childhood!! Anyone else just scroll past? Yup me too. So I'm gonna get right to it and share this killer recipe that I made the other night which has NOTHING to do with my childhood because I don't think I ate a curry dish until I was 23 years old lol.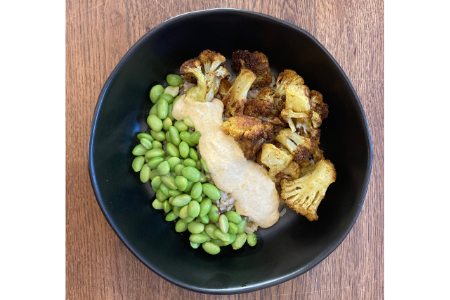 Ingredients:
1 head cauliflower, roughly chopped and rinsed
1.5 cups shelled edamame beans (I used frozen)
1.5 cups cooked rice (I used the ancient grain mix from costco that cooks in 10 min)
1/4 cup avocado oil (or melted coconut oil)
1/2 cup sour cream + 2 Tbsp whole milk (I wanted to use tahini + water but didn't have it on hand so I used sour cream + milk)
2 Tbsp curry spice (mine is mild)
2 tsp garlic powder
1 tsp tumeric
1/2 tsp cayanne
S&P
1 Tbsp lemon juice
Directions:
Preheat airfryer OR oven to 400 degrees. Mix half of all the spices in with avocado oil and pour over cut cauliflower, toss until mixed. Air fry for 7-8 min, toss then air fry again for 3-4 min (at 400 degrees, I did mine in 2 batches so it cooked evenly. You can also roast in the oven at 400 degrees for 15 min, stir and then again for 5-7 min until crisp).
Meanwhile while cauliflower is cooking steam or microwave edamame beans and once cooked add a pinch of salt and set aside. Finally mix the other half of the spices plus lemon juice with sour cream and milk (or tahini and water) and let sit. Once all components are cooked layer them into a bowl. I layered the rice first, then spread the edamame beans and cauliflower and topped with the sauce. This meal is excellent served deconstructed for little ones with the sauce as a dip.
I absolutely LOVED this dish and next time will go heavier on the spices and likely use potatoes as well cooked alongside the cauliflower to get crispy and spiced too. This dish took me about 15-20 minutes total and will likely become a staple in our home because it's using ingredients we almost always have on hand.