I need more sleep oats
Posted on November 9, 2020.
Last updated on November 9, 2020

Written by Alyssa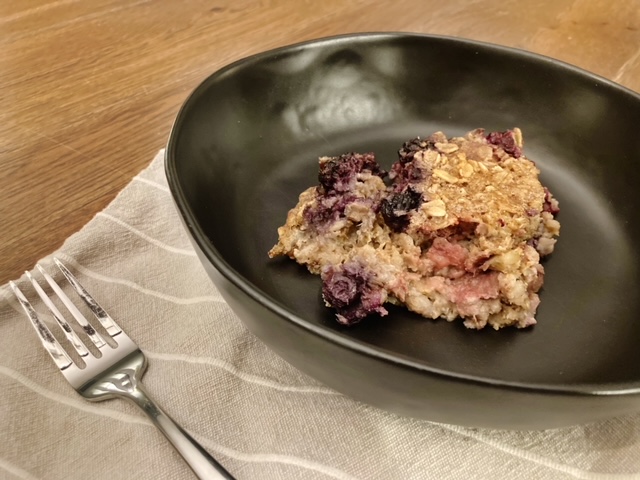 Alright mama, I have been soooooo tired every morning and I am READY to get on top of it. I am just realizing this is likely due to day light savings time but my kids are waking up SO early and are immediately hungry. I get really overwhelmed sometimes in the idea of making a hot breakfast every morning so I am getting back into the swing of meal prepping breakfast.
I think meal prepping breakfast is the best thing I can do to start my day off right. I have a few meals that I do this with but I wanted to share with you my baked oatmeal. I hope you enjoy this and it brings you a few minutes of extra sleep!
Ingredients:
2c dry oats
2c whole milk
1 banana
1 egg
1tsp baking powder
2tsp vanilla extract
2Tbsp maple syrup
Cooking spray or 2Tbsp coconut oil (rubbed on pan)
Toppings: My favorite is blueberry walnut in which I just add about a cup of fresh or frozen blueberries, 1/2cup chopped walnuts, 2Tbsp melted PB and 1Tbsp cinnamon to the mixture. You can use any fruit/veg/spices to make up your favorite flavors!
Directions:
Preheat oven to 375. Mash 1 ripe banana, mix with milk, eggs, maple syrup, vanilla and stir until combined. Add oats, baking powder and any spices/toppings you plan on using until fully mixed and all oats are wet. Spray a 9×9 baking dish or coat in oil, pour oat mixture into the dish and bake 40-50 minutes until fully cooked. Serve right away or let cool, store in the fridge overnight and warm up per slice as needed.